First Lady Fashion: So Many Thoughts on Jill Biden's Inaugural Ensembles
A look at the two outfits from inside their new home at the Smithsonian's National Museum of American History.
I thought tonight's State of the Union address would be a fitting time to begin a new chapter for So Many Thoughts, expanding into first lady fashion. And what a start I have for you! Late last month, the White House invited me to attend the dedication of Dr. Jill Biden's two inaugural ensembles to the permanent collection at the Smithsonian's National Museum of American History. It was an incredible moment to meet the first lady, see her fashion up close, and talk with the talented individuals behind the designs. 
Why first lady fashion, you might be asking? I believe it's the closest thing we have here in the US to royal fashion in terms of thoughtful, intentional dressing. There are marked differences, of course, between both the style and the position of FLOTUS and HRH (there are fewer sparkles out of Washington, for starters, and more speeches). But the president's wife's wardrobe is often subject to the same pressures of public expectations — and, throughout history, the women in the role have embraced sartorial symbolism.
"We've been criticizing or complimenting or commenting on the first ladies' clothes since Martha Washington," says Lisa Kathleen Graddy, curator of "The First Ladies at the Smithsonian" exhibition.​
The starting point for the display that now houses Biden's attire, according to Graddy, was the simple question: "Why do we care what the first lady wears?" Her answer was delightfully similar to what I wrote in my book, HRH, about why royal fashion matters. "Clothing is the first thing you see about anyone," Graddy said. And from there, the interpretations begin: "What is this saying about how I'm presenting myself? Or how I see myself? It's what you're crafting." 
This is as true in present day as it is throughout history. "For people most of us will never meet, [their clothes are] the only thing we get to see," Graddy said. "That's how we start to begin to assess someone. Even more so with first ladies — they belong to us. They are representing us out in the world."
Below, I wanted to share my day at the Smithsonian with you, which included a host of remarks that speak to the spirit of So Many Thoughts. The beautiful photographs throughout the newsletter were taken by Jarrard Cole, my former Wall Street Journal colleague and collaborator; my thanks to Jarrard for his willingness to document the trip with me.
Stay tuned for more Substack pieces from my trip to Washington, including the evolution of first lady fashion throughout history and a look at the first lady portraits I saw during my private tour of the White House. 
"Clothing is an art and articulation. It's a manifestation of a moment of time. It's history."
First Lady Dr. Jill Biden
My first thought upon entering the Smithsonian's National Museum of American History on a dreary Wednesday morning was one of gratitude. Seeing dozens of guests and the full DC press corp gathered to witness First Lady Dr. Jill Biden's presentation of her inaugural ensembles to the permanent collection was so affirming. It was an acknowledgement that what a person wears is an important part of history, one that is deserving of formal recognition. The same is true for the remarks from museum officials, designers, and the first lady herself during the ceremony.
The tradition of dedicating inaugural attire dates back to Helen Taft, who presented her 1909 ball gown to the museum's permanent collection. The first exhibition featuring first lady gowns opened in 1914, according to the museum: "It was the first Smithsonian exhibition by, for, and about women giving them a place in the nation's museum and paving the way for future collections on women's history."
"The [clothes] are here now to tell a story, to tell a story about gender, about power, about public symbolism. They're here to help us remember how Dolley Madison made bipartisan political hosting into an art form, or how Eleanor Roosevelt championed social justice and fairness, and how Jackie Kennedy transformed the public's opinion of the White House. They tell a story about how each of these women navigated the country's most public — and yet unscripted — job."
Lonnie Bunch III, secretary, Smithsonian Institution
The current display features 27 dresses, including inaugural gowns from the last seven first ladies, spanning Rosalynn Carter to Melania Trump. Biden's contribution, however, is noticeably different in that it is not a gown; there were no inaugural balls in 2021 due to the on-going pandemic. Instead, Biden wore a pair of dresses with coordinating coats: a blue wool tweed style for day followed by an ivory embroidered silk wool cady ensemble that evening. The current first lady's inaugural accessories mark the moment in history, too. Whereas other gowns are paired with a clutch or heels, Biden's dresses were dedicated with the matching face masks she wore on her husband's Inauguration Day.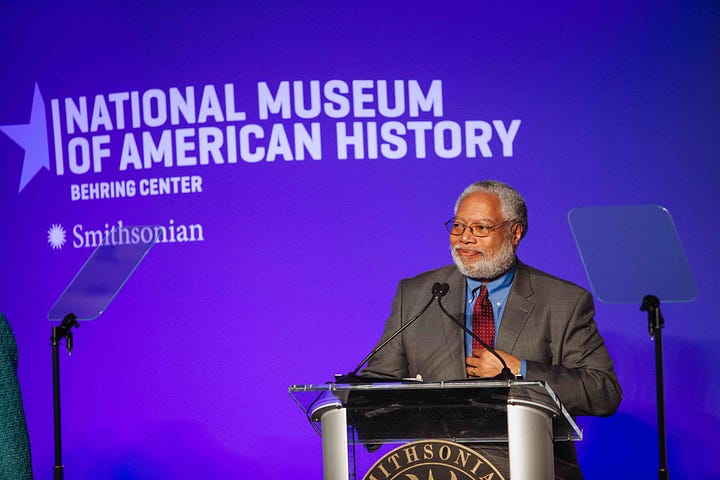 "These ensembles presented today, taken in with open arms to the national collection, are a rarity for us as the 2021 inauguration was markedly different from any one in memory…the elegance and the understated beauty of Dr. Biden's first inaugural dresses and coats and, for the first time in our history, coordinating matching masks captured the uniqueness of that occasion."
Dr. Anthea Hartig, director, National Museum of American History
Listening to the speeches, I couldn't help but reflect on the previous day I spent learning more about role of the first lady. During a private tour of the East Wing of the White House, including a chance to view several first lady portraits (I could do an entire SMT series just on those paintings!), it occurred to me just how varied the work has been.
I discussed this at length, too, with Lisa Kathleen Graddy, the Smithsonian curator. "The first lady is an important but completely unofficial job," she said. "There is no job description for first lady. It's not in the Constitution. So each first lady creates the job anew for herself based on her own personal interests and preferences, the particular needs of the presidential administration for what they need her to do, and the expectations of the American public."
It's up to the person holding the title to make of it what she will — which makes the fashion component of the equation particularly interesting to me. The attention to clothing is always going to be there, in both the present day and for the historical record. The question becomes: What will the first lady choose to do with her sartorial spotlight?
Click above to listen to an excerpt from the first lady's speech.
"When I became first lady, I knew that people would start to care a lot more about what I wore," Biden said during her remarks at the Smithsonian. "And there have been times when I've welcomed that spotlight because I knew that my clothes could help me say something important." She referenced some of her most obvious fashion messaging moments — her "Vote" boots she wore to vote in Delaware's state primary and the "Love" jacket she wore on a trip to the U.K. — and got a good laugh for the attention over the scrunchie she wore shopping.
Biden's use of symbolic fashion has been carefully deployed in the last two years; I'd argue that selective approach makes the moments she leans in particularly meaningful. Her 2021 inaugural attire stands out as the most special. At the Smithsonian dedication, it was abundantly clear from her speech how much she treasured the designs.
"These two ensembles were a voice for me in one of the most important days of my life," she said. "They spoke to the American people then—and now, they will continue speaking to generations to come. They will help tell not only my story, but the story of what Americans experienced together—of the hope, and love, and unity that we held onto, and how we let those values guide us forward."
I was particularly moved by how Biden thanked the designers, Alexandra O'Neill of Markarian, who created the blue daytime ensemble, and Gabriela Hearst, the designer behind the evening ivory look. More from Biden's remarks:
"When I first encountered Alexandra O'Neill, she was just getting started—the leader of a young, small team with big ideas. Her designs seemed both timeless and new. And that was exactly what I was hoping to find. Because young people showed up and voted for Joe in historic numbers. And I wanted to reflect their passion, creativity, and hope that day. Alexandra, thank you for helping me meet that moment with beauty and boldness."
First Lady Dr. Jill Biden
"My focus on Inauguration Day was being a first lady for all Americans, doing my part to bring our country back together. Gabby understood that. So she adorned this dress with flowers from every state and territory, and she placed Delaware my home just above my heart. Gabby, thank you for making our vision of a truly united America come to life."
First Lady Dr. Jill Biden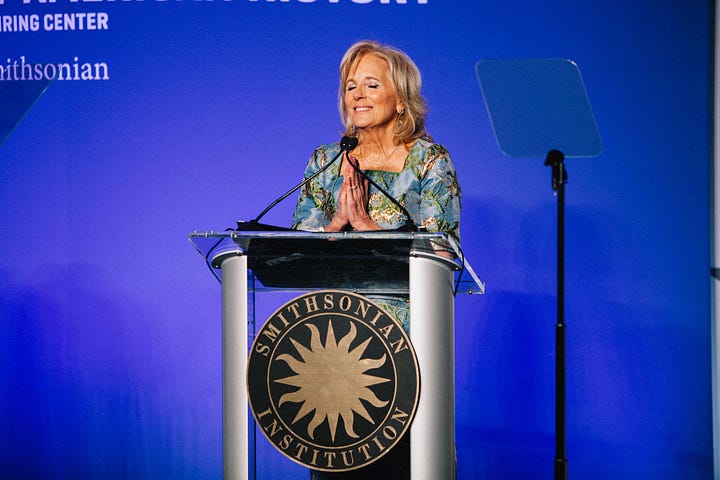 After the presentation, the clothes were moved from the stage to their new home upstairs within the exhibition. It was quite the process to witness! The museum team handled the mannequins and garments with the utmost care (and gloved hands). Biden then was given the first look; she was joined for the special moment by friends and family. I had the chance to say hello to her during this private time and I'll never forget how much these clothes meant to her.
As part of my trip to Washington, I interviewed both O'Neill and Hearst about their designs. It was So Many Thoughts come to life! I was struck in my conversations by how much agency they were given to pitch their initial ideas. Both said how wonderful it was to work with Biden and her team.
Below, a bit more from O'Neill and Hearst on their designs. I've also included audio compilations of our chats so you can *hear* them describe the process — it's fascinating! (Please note: These clips have been condensed slightly for time.)
Alexandra O'Neill
Founded in 2017, Markarian by Alexandra O'Neill is a luxury evening wear and bridal company designed and produced in New York. O'Neill grew up in rural Colorado; her grandmother taught her to sew at the age of 10.
In December 2020, O'Neill says Biden's team reached out requesting sketches for inaugural attire. A second request came shortly after, and then the process of narrowing it down. But it was far from a sure thing to O'Neill. "Up until the moment she walked out, we still weren't sure if she was going to be wearing our look or not," O'Neill told me over drinks the night before the Smithsonian presentation.
She began her design process with the silhouette while simultaneously looking for fabrics, cognizant that this was for an outdoor event in January. "There are so many things you want to do but physically it's not possible," O'Neill said. She opted for a heavy coat and dress fabric offset by some lighter elements, like the chiffon for the neckline and sleeves.
Then O'Neill turned to the all-important question of color. "When you're designing a piece for an occasion like that, everybody's going to be reading into everything, so you have to make sure that the symbolism is right, too," she said. O'Neill offered Biden a number of colors with different meanings for each. The shade they ultimately selected was "ocean blue," meant to signify unity. 
Biden's selection will forever be a highlight of her career, O'Neill told me, recalling fondly how she hand-beaded the embellishment around the neckline and applied the individual sparkles scattered throughout the coat. "That was a labor of love for me," she said with a smile.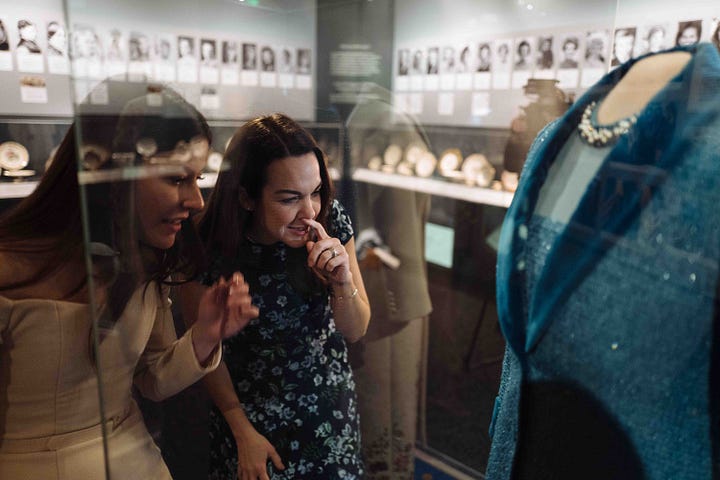 Gabriella Hearst
The designer founded her eponymous label, Gabriela Hearst, in 2015. Raised on her family's 17,000-acre ranch in Uruguay, Hearst moved to New York and worked in design for a decade before starting her own brand. "It's a big moment," Hearst told me of seeing her designs in the Smithsonian for the first time. "And definitely something that as an immigrant, someone that became an American citizen, you just can't normalize the importance of it."
Both the pandemic and the insurrection on January 6th informed Hearst's inaugural designs. "I felt the sense of unity was something that was needed to showcase," she said, as well as a desire to demonstrate the "sophistication and craftsmanship [that] can be achieved in America." To that end, Hearst proposed the idea of embroidering flowers from each of the states and territories onto both the coat and the dress. The flower of Delaware was placed just above Biden's heart and on her mask, too.
The design worked well with her brand's ethos, too. "Our main inspiration is always nature for us and our respect for the environment," she said. "All the symbolism represented in the ensemble is breathtaking." Standing next to the display, Hearst was moved by the use of two mannequins in order to showcase both the dress and coat. "They didn't want to miss out the embroidery," she said.
Hearst's face lit up when talking about the sue of "dead stock" fabric, or material leftover from other designs. "Nothing new was done so the impact on the environment is minimal," she said. What's more, the dress and coat were created in New York's Garment District at the height of the pandemic uncertainty. "People didn't know [if] they were gonna have jobs," she said. "And all the love and attention that was put into this — I can feel the love from here."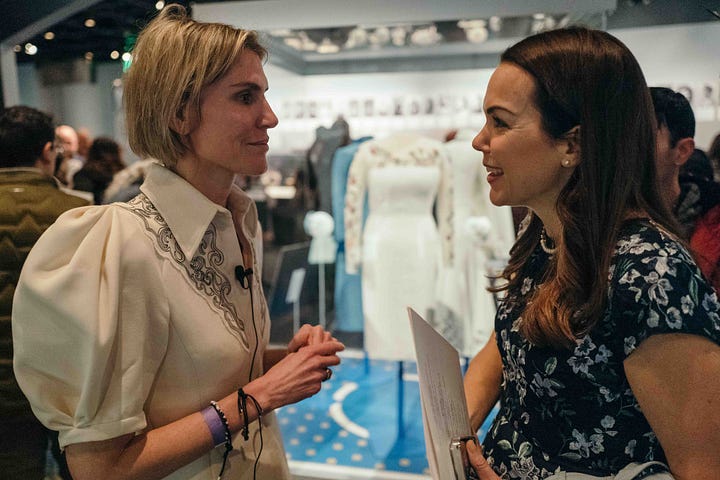 But mostly: If you are in Washington, go see these clothes! It's a wonderful way to spend an afternoon. More information on the museum can be found here.